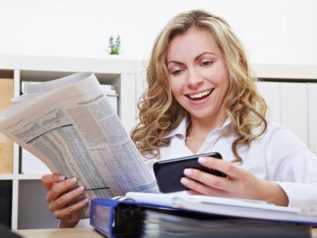 Every day thousands of people are involved in a constant turnover of activities. We do our best to perform our everyday tasks and most of the time we manage to do that successfully. However, we sometimes feel a distinct lack of helpful knowledge to fulfill them more effectively. Thus, we need a better task management system or, in other words, productivity tips. The latest achievements in modern computer technologies may help us in resolving this problem. Being more productive is quite possible now.
Task Management Tips
Wunderlist
Wunderlist is one of such powerful productivity tools. In short, this gadget creates to-do lists you can share with pals, family, or colleagues. Besides, they will be able to edit that list on their own. Even when some people are working on a list simultaneously, the system is ok with it. Finally, it has a smooth attractive shape and is very convenient in usage.
Todoist
Todoist suggests a vast number of great features that let you organize tasks by date, color-code them, and so on. It is very ergonomic and handy. It will be practical purchase for business people. A real godsend for those, who strive to manage their time efficiently.
Calculate the cost of essay
Trello
Trello is the online management tool. This tool is user-friendly, practical, and is safe as houses. You would never regret of purchasing such a tool. This tool provides you with lots of features. Being extremely useful, it would never get covered with dust.
ToodleDo
ToodleDo is a task management tool for the most organized people. ToodleDo is an appropriate tool for organizing simple to-do lists on your IPhone or on the web. It is simple, practical, and primarily oriented on tasks. ToodleDo is one of the best tools in managing your tasks.
AnyDo
Any.Do is one of the most beautifully designed apps on this list. It offers all of the features you would like to have in a to-do list. For instance, its key differentiator is "the moment": a push notification, which you receive each morning, reminding you to plan your day. There are also lots of other interesting and attractive features
There are other tools that can assist you in managing daily tasks, like Things, TicktTick, Google Keep, OmnyFocus, HabitRPG. At any rate, all of them are quite useful.
Related Blog Posts from category "Professional Assistance"