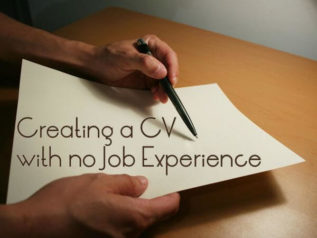 It's a well-known fact that lack of experience makes it really hard to find a good job for those specialists who have just graduated from college or university and are applying for a position that can meet their expectations. Lots of employers are looking only for those employees that are qualified professionals and have much experience.
The situation concerning the labor market is not an easy one. Unfortunately, many young gifted professionals are not able to get hired because there is a great number of job seekers. Nevertheless, many hiring managers take into consideration the content of the resume of young applicants and can invite them for the job interview.
The main thing is to make sure that your resume is read by a recruiter and is not thrown in the rubbish bin. If the resume is an excellent one, an employer may want to continue communication with a candidate, but this is rather difficult for a person who doesn't have much experience. In such a situation, your main task is to prove that you have suitable qualities and will be able to meet the requirements even being inexperienced. Keep in mind that your resume should be grammatically correct and shouldn't have typographical errors.
Follow Our Suggestions that Might Help You to Get a Fulfilling Job
You resume should include your first name, last name, your e-mail as well as phone number. In addition, you can mention your fluency in some foreign languages because this may help you to stand out among other job seekers. You can add a photo to your CV. Elaborate on the item that is called "Relocation", since in some cases an employee might be offered to work in another city. Consider the point whether you are ready for this or not. For some people relocation brings only disappointment and inconveniences.
Let's move on to the section "Preferences". You should think of an appropriate title for your resume. If you do this correctly, the possibility of gaining a job increases. After that, you can focus on other specializations like the type of work and level of salary. Not many employers are ready to pay high wages, but lots a them can devote their time to training young specialists who don't have work experience.
I wouldn't recommend to apply for several vacancies in one CV. Usually all employers prefer concreteness to uncertainty, so this list will make a hiring manager feel confused. You'd rather write a separate CV for each position.
The most essential part of your resume is where you talk about your job experience. Feel free to write at least little info about your work experience even if it doesn't relate to your future profession.
Lots of job seekers don't pay attention to the tab "Additional Information". However, you should take advantage of an opportunity to specify your individual qualities and abilities. In this part of your resume, you can add any training courses that can be somehow connected to your future profession. Why don't you gain some job experience in advance? For example, why not take part in volunteer organizations or work part-time before graduation.
Related Blog Posts from category "Professional Assistance"