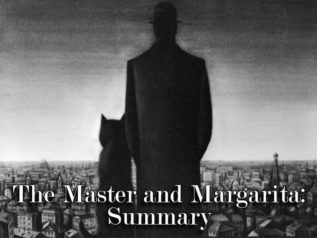 The Master and Margarita is a worldwide known novel written by Mikhail Bulgakov. The unusual and entangled plot of the book comprises three key story lines, which the author started to create in 1928 and continued to develop till the end of his life.
The first story is the portrayal of Moscow of the 1930s and mysterious appearance of Professor Woland and his retinue, who creates plenty of mess in the city with the help of the unbelievable black magic. Another setting in Jerusalem tells us a story about Pontius Pilate and a philosopher Jeshua-ha-Norzi, who is sentenced to death because of revealing "the violence over people" by the authority. Finally, we observe the love story of the Master and Margarita, who are in need of help to get reunited. Moreover, such eternal topics as magic and realism, sanctity and peccability, history and contemporary times (refers to the Soviet Union existence) are philosophically connected in one book the Master and Margarita.
The beginning of the complex narration starts with a discussion concerning the existence of Jesus between Berlioz, a poet Ivan Bezdomnyi and Woland. Smoothly, the setting shifts to Jerusalem where we get to know Jeshua and the reason of his trial.
Back to Moscow, there is a number of weird events happening, which include Berlioz's decapitation, Bezdomnyi's loss of mind, miraculous appearance of Lihodayev in Yalta, hypnotic performance of the black magic and others.
After Bezdomnyi loses his mind because of Woland's and his gang's chases, Ivan is taken to the asylum where he meets one of the main characters – the Master. Soon, Bezdomnyi and the Master realize that they are put under the lock because of the same reason – Pontius Pilatus. The Master wrote a book about the historic person while Ivan was dreaming about Pilate's story life. Apart from being passionate about his novel, the Master feels also passionate about his precious love – Margarita, an outstanding woman that he met and fell in love with at first sight. Ironically, they couldn't be together as Margarita was married. Overcoming difficulties on the path of their forbidden love, they were separated.
Meanwhile, Woland and his sticklers continue to disseminate chaos in Moscow and poor Margarita is pining over her love. She meets Azazello, who organizes a meeting her with Woland. Margarita agrees to be the hostess during the Satan's ball. For being a hostess, Margarita wishes to reunite with the Master and her dream becomes true. Moreover, the Master receives his full manuscript, despite a bigger part of it was burnt.
Levi, a follower of Jeshua-ha-Norzi, brings to Woland the request from Jeshua "to give the Master and Margarita piece."
Related Blog Posts from category "Article Reviews"