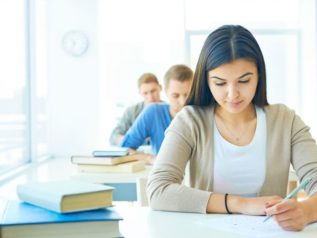 Essay writing is a skill that every college student should master. It is, however, useful not just for college students, because the developed writing skills and ability to put one's thoughts on paper in a clear and appealing manner can contribute to the selection of a future career path. By definition, essay is a piece of writing that presents a personal point of view on a specific topic. There are a great variety of essays that can be categorized by type. For instance, there are explanatory, argumentative, persuasive, expository essays, etc. Each kind requires the writer to select a specific tone and follow necessary rules inherent to the selected or assigned type of the essay. Some essays require the author to express his/her emotions, while others demand that the writer writes from an estranged point of view, as an outside observer. The voice of the essay is usually friendly, often intimate, sometimes subjective and deliberately conversational.
When writing an explanatory essay, the writer should present a well-structured clarification of a certain situation, event, or someone's point of view. The tone of an explanatory essay is neither critical nor argumentative. It's aimed at explaining certain information in an impersonal, easy-to-understand manner. Although an explanatory essay has an objective tone, it strives to bring a dedicated reader to a very specific understanding of a challenging subject.
Calculate the cost of essay
Good Explanatory Essay Should Begin with an Idea and a Slant
The primary goal of an explanatory essay is to convey and clarify information. However, a sentence structure, a word choice, a topic order and research goals are determined by the exact data that you want to include, by the way you choose to support your affirmations, as well as by how you intend to present your idea to the certain audience. Subjects of an explanatory essay differ greatly. You can chose to write an essay on a political clash or on Dr. Strange movie. The methods that can be used when writing an explanatory essay include compare-and-contrast, cause-and-effect or analogy methods. As the mood of the writer is always reflected in the essay, try to pick the topic that you really like. The right selection of the topic makes 30% of essay's success. When you have selected the topic that you like, extract a specific idea out of the material and choose a unique angle of presentation.
Knowing Your Audience
Think about their age, sex, race, political outlooks, religious beliefs, health issues and other specific characteristics that define your target readers. Remember that not all religions worship the same God and not all women think alike. Be very specific.
Determine Your Thought Pattern and Style
Consider that when you're writing an explanatory essay, you are writing it to address certain questions. You should consider the strengths and weaknesses, advantages and disadvantages of the subject and explain the things that can't be easily understood. Avoid falling into personal or persuasive viewpoints. An explanatory essay is not for that. Now knowing the details, start writing and focus on clarification. When your essay is ready, make sure that your audience understands your conclusion.
Related Blog Posts from category "Essay Help"