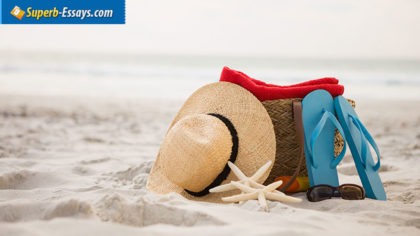 Summer is the time for rest and indulgence. College can take its toll on you; so, many people try to get as much relaxation packed into these two month as possible. However, that does not mean that you should not pursue a more productive way of spending time if you are inclined to it. If being productive makes you happy, this is what you should do! And it will surely look great in your resume or during admissions interviews.
Here are a couple of ideas on how to make your summer both interesting and rewarding. This does not mean that you should choose only from these four options. If there's something that you know will bring you joy – go for it!
Find a Job or a Summer Internship
By choosing this, you will gain three things at once – skills, money, and stories to tell in essays and interviews. Remember that your summer job does not have to be glamorous. Flipping burgers can be just as valuable if you approach it with a positive attitude and know how to showcase your newly found skills. An internship will probably look a bit better on paper, but consider whether taking an unpaid internship is an option for you.
Volunteer
There are so many worthy cases of desperate need! Working for a good cause will demonstrate that you are a dedicated and conscientious citizen who cares about your community. Just make sure to find something you feel truly passionate about, so your enthusiasm does not wane in some time. It can be anything: from organizing events at a community library or working with veterans to teaching English to kids in Zimbabwe. Anything is good enough if you wish to contribute.
Do some Research
As institutions of learning, colleges appreciate when someone strives for knowledge. Perhaps, you have a topic that has attracted your attention for a long time. Why not spend this summer researching it? If there is a university near you, you might even find a professor willing to direct your efforts. Mind that researching something deeply while you are still used to high school standards is not an easy task, but you can do it if you truly want it. It will also prepare you for college where you'll have to read scientific articles, watch documentaries, and use the Internet and libraries all the time.
Go Traveling
Adult life is full of responsibilities. This is why you should enjoy your freedom while you still can. See the world, but don't do it in a tour bus. Be adventurous. Backpack around Europe, use public transport, and go to the countries none of your friends has even heard about. Take a step outside your comfort zone and see the world open up to you.
Of course, there are many other ways to spend your summer, including camps, academic programs, sports, etc. Enjoy whatever you choose to do.
Related Blog Posts from category "Student's Life"