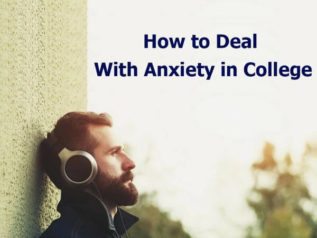 As long as I can remember, I have been an anxious person, and college exacerbated my natural tendency to freak out. Fortunately, I understand that I am not alone in such a struggle. In every college, there are students who face anxiety at particular points of their studies. However, it does not have to become a regular occurrence. Here are some of my tips on how to deal with stress and nervousness in college.
Find Out What Makes You Anxious
You should recognize whether it is your chemistry class or your roommate. Target the source of your stress so that you can figure out how to relieve it. If the anxiety is caused by an upcoming exam, it is just temporary. However, if you find yourself always uncomfortable entering a particular class or being around particular person, it is definitely a longer lasting issue.
Find an Outlet
The best and most effective thing you can do to deal with anxiety is finding a healthy outlet. Some of great options are creative and athletic outlets. As for me, I love painting, doing yoga, and walking. If you prefer creative outlets, you can try writing, coloring, drawing, singing or playing a musical instrument, DIY creations. If athletic outlets attract you, try running, stretching, dancing, zumba, kickboxing, swimming.
Once you feel overwhelmed, turn to a chosen outlet. This way, you will release calming chemicals in your brain that will make you feel better.
Be Organized
If you often find yourself stressed because of your home assignments or extracurricular activities, then it is likely that you will benefit from taking time to organize everything in your life. Purchase a good planner which you will really use and write down everything you have to get done in order of importance. This will lessen the load in your mind as you will visually see what you have to do.
A great tip is writing things that you have already completed when writing a to-do list. This will make you feel more motivated.
Take Care about Your Health
Be kind to yourself. By eating bad and low quality foods you will just increase your anxiety. Treat your body. No, it does not mean that you have to completely devote yourself to a perfect diet, but always stay conscious of what you are consuming. If you feel anxious, your body can crave sugar, but it is better to resist. Remember about the brain food which will keep your body and mind sharp. Make sure you always have on hand a healthy snack like fruit, grains, or nuts.
Sleep Enough
Have you ever noticed that things always seem the worst right before bed, but more clear and positive in the morning after a good sleep? Yes, sometimes it is so hard to stop studying and go to bed, but it does amazing things for your mental and physical state. If you face difficulties with sleeping being anxious, try some nighttime teas like peppermint, bergamot mint, or chamomile. Dim the light in your room to make your body think the time has come to sleep. Put away all the electronics and choose a good book to read in bed.
Hope these bits of advice will help you distress in college!
Related Blog Posts from category "Student's Life"